The following article names Syracuse as number four in a study identifying where is it more cost-effective to buy rather than rent?  Many empty-nesters in the northern suburbs don't really have a choice if they are looking to escape the burdens of home-ownership (mowing, snow shoveling, landscaping…etc) as there are very few home owner associations (HOA)  or condominium communities in which to purchase a home.  Often the choice is either move out of your community or rent.
Real Estate Study: Where Is It More Cost-Effective to Buy Rather Than Rent?
By Jameson Doris
Choosing to purchase your first home and leave the renter's life behind is a big decision. Today, it's far more difficult for young people to save for a home, especially for those with massive student loan debt; however, in many parts of the country, it makes more sense financially to take the homeownership dive rather than holding off and continuing to rent.
According to a new SmartAsset study, there are 17 metro areas—where the population is greater than 200,000—where the total costs of renting are greater than the total costs of buying in less than just two years.
For many people in these areas, it still makes more sense to continue renting—coming up with a down payment is one of the greatest obstacles to becoming a homeowner. However, it's powerful to know that, in some parts of the U.S., renting is more costly than owning a home in less than two years.
"It's important to analyze your own personal numbers to see what decision makes the most financial sense for you," AJ Smith, VP of Financial Education at SmartAsset, tells Housecall. "In addition, these results help people understand how their metro area compares to the rest of the country in terms of home-price-to-rent ratio."
With a breakeven point of 1.3 years, Gary, Ind., led SmartAsset's study. Here is a list of the top 10 metro areas where it's more cost-effective to purchase a home rather than rent: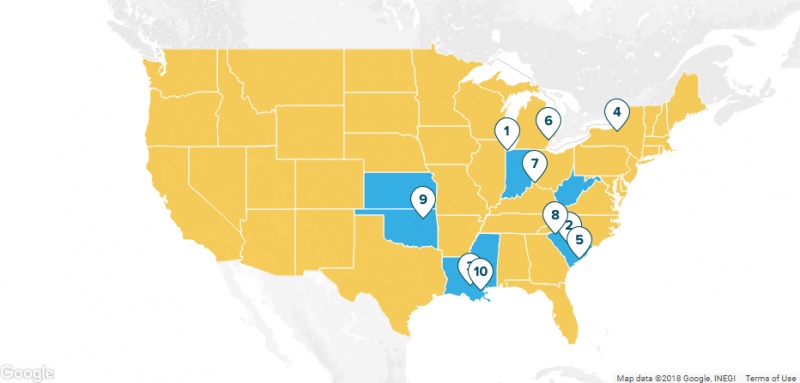 1. Gary, Ind.
2. Columbia, S.C.
3. Baton Rouge, La.
4. Syracuse, N.Y.
5. Charleston-North Charleston, S.C.
6. Detroit-Dearborn-Livonia, Mich.
7. Cincinnati, Ohio
8. Greenville-Anderson-Mauldin, S.C.
9. Tulsa, Okla.
10. New Orleans-Metairie, La.
For a full breakdown of SmartAsset's methodology and to explore the interactive map, go here.
This appeared first on RISMedia's Housecall.
Jameson Doris is RISMedia's blog and social media editor. Email him your real estate news ideas at jdoris@rismedia.com.
For more real estate information, including market data for your area or a FREE Home Market Analysis please contact the Listing Company of CNY at (315) 864-6001 or complete the Contact Us form on this page. The Listing Company of CNY is a full service real estate broker providing a commission rebate to our clients.
Reprinted with permission from RISMedia. ©2018. All rights reserved.